This information is based on statistical studies.

The COP is specifically governed by Drivers (Movements in Other Markets) and Fundamentals (News that are happening or that happen on the same market day)
3 Drivers that impact your performance on a daily basis: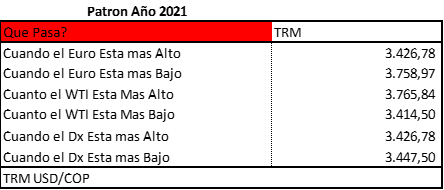 WTI (Oil): When it rises, the COP falls and vice versa.
Euro Vs. Usd: When the Euro strengthens in relation to the US dollar, emerging currencies go down, and vice versa.

Dollar devaluation: the American currency Dx is devalued, when this happens the emerging currencies go down, when the Dx s strengthens, the emerging currencies rise.

Fundamentals Wednesday October 27, 2021:
Premarket | Global stocks tumble on new fears of default in Chinese real estate.
The Asian stock markets ended with losses on Wednesday, in a day in which the gains of the Vietnamese Ho Chi Minh Stock Exchange stood out, whose index rose above 2%.
The European stock markets opened the session in the red in their main indices: the German Dax is trading with slight falls of 0.3%, the Cac 40 of France is down 0.2% and the Ibex 35 of Spain loses 0.3% .
Stocks in the US point to a mixed opening following earlier events in Asia and Europe. The positive closings of the S&P 500 (0.18%), Nasdaq (0.06%) and Dow Jones (0.04%) stood out yesterday.
Dollar For Today 10-27-2021:
In the previous day, the USDCOP pair closed at $ 3,771.50 (+ $ 4.50 compared to the previous close), after an opening at $ 3,770, a maximum level of $ 3,778.75 and a minimum level of $ 3,765. The volume traded reached $ 0.99bln and volatility of $ 13.75 pesos.
COP: Lateral market with closing 3771.5 after a max 3778.75 and min 3765 with a volume of Us1.0bn.
COP opens at 3758, $ 13 / Us below the close, and is trading slightly above the open. On Friday there will be a meeting of the Banrep on interest rates and we will surely see a COP in range.
–
* This analysis does not represent a guarantee against the average value of the analyzed currency, nor its variations. Efinti is not responsible for any misinterpretation that may be made against the published article.