This information is based on statistical studies.

The COP is specifically governed by the Driver (Movements in Other Markets) and the Fundamentals (News that are happening or that happen on the same market day).
3 Drivers that impact your performance on a daily basis: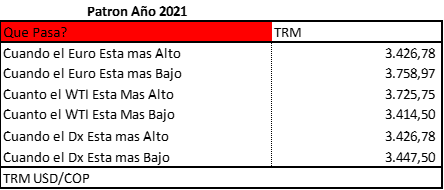 WTI (Oil): When it rises, the COP falls and vice versa.

Euro Vs. Usd: When the Euro strengthens in relation to the US dollar, emerging currencies go down, and vice versa.

Dollar devaluation: the American currency Dx, devalues, when this happens the emerging currencies go down, when the Dx s strengthens, the emerging currencies rise.

Fundamentals Monday October 19, 2021:
Stock markets and oil move higher; quarterly results continue on Wall Street.
Asian equity markets closed on Tuesday with mixed results, notably the rise in Singapore after the losses the day before and the slight fall in Jakarta after the Central Bank of Indonesia kept interest rates unchanged.
European stocks opened higher on Tuesday, with tech stocks standing out among those that rose in line with their Wall Street peers in the early morning, offsetting losses by Sweden's Ericsson and healthcare companies.
Shares in the US will open higher as investors closely follow macro data coming out in mid-October, as well as the corporate earnings season.
Bitcoin is trading at $ 62,000. For its part, Ethereum stands at US $ 3,800.
Oil prices rose on Tuesday due to a shortage of supplies of natural gas, electricity and coal, while falling temperatures in China reignited concerns about whether the world's largest energy consumer can meet domestic demand for heating.
Dollar For Today 11-19-2021:
COP: opening at $ 3,777, a maximum level of $ 3,785.45 and a minimum level of $ 3,755.55. The volume traded reached $ 0.85 billion and volatility of $ 29.90 pesos.
Dense market in pesos !, and using dollars to fund pesos, generating a drop in the cash in dollars, and therefore an upward pressure. The COP opened 3755, barely reached a low of 3753 and is trading> 3760.